New mesenchymal stromal cell lines from placental tissue for production of exosomes are now available!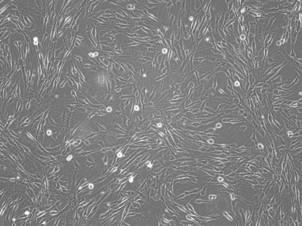 December 1st
, 2021, Vienna, Austria
Mesenchymal stromal cells from placental tissue and amniotic membrane have attracted much attention as they have been reported to exert therapeutic effects by e.g. promoting angiogenesis, inducing liver regeneration or influencing the immune system.
Evercyte is very pleased to present its new telomerized placenta- / amnion-derived cell lines which can be grown without limitations in vitro while maintaining cell type specific markers and functions. Moreover, our new cell lines have been established under xeno-free conditions with full documentation of any manipulation step and extracellular vesicles secreted by the cells under GMP conditions could provide new therapeutic approaches.